The Australia New Zealand Regional Science Association International Inc (ANZRSAI) is part of an international association concerned with all the aspects of regional analysis and development.
The Association began with academic origins but has expanded over time to include policy advisers and practitioners who implement regional policies and projects.
ANZRSAI hosts an annual conference on some topic of regional science, publishes a refereed academic journal (Australasian Journal of Regional Studies), distributes a regular newsletter (Sustaining Regions), and provides members with information and access to international and national networks relevant for regional studies.
Members of ANZRSAI are automatically members of our international association, the Regional Science Association International. Members receive the newsletter by email and have immediate access to each issue of the Australasian Journal of Regional Studies as it appears.
Participants in our annual conference receive complimentary membership for the following year; others are invited to join ANZRSAI through this website.
2023 Annual Conference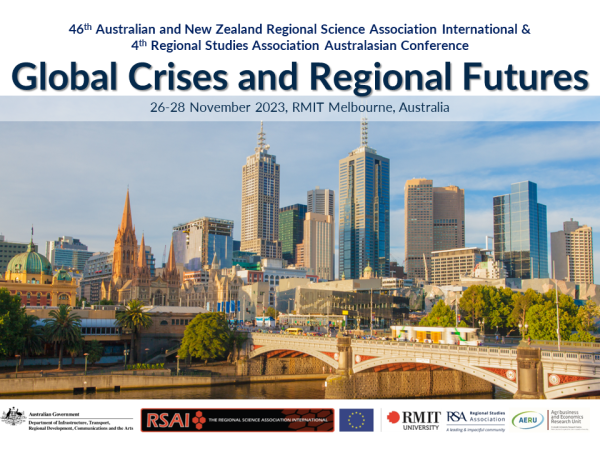 The 2023 ANZRSAI Conference will be convened jointly with the Regional Studies Association (RSA), bring together researchers from Asia, Europe, Australasia and beyond. The event will be hosted by the European Union Centre at RMIT on 26-28 November 2023. It will be an in-person conference, although opportunities for on-line presentation and streaming will be available.
To submit an abstract, please go to the following website:
https://www.regionalstudies.org/events/2023-australasia/
The First Call for Papers is available to be downloaded here.
To register, please go to here
Awards for Best Conference Papers
At the conference, ANZRSAI presents an Award for the Best Conference Paper and an Award for the Best Conference Paper by a Student. These Awards were sponsored by the Bureau of Infrastructure, Transport, Regional Development and Communications. There is a small cash grant given to the winners. 
Australasian Journal of Regional Studies, the ANZRSAI Journal
The latest issue of our journal, Volume 29(1), is available to current members through the publications tab above. 
Sustaining Regions, the Newsletter of ANZRSAI
The latest issue of our expanded newsletter, Volume 13, Issue 2, was posted on this website in June 2022. Earlier issues of Sustaining Regions, the newsletter of ANZRSAI are also available.
Latest News

7 June
The ANZRSAI Council is pleased to issue the first Call for Papers for its annual conference, 1-2 Dec... More »

7 June
The latest issue of Sustaining Regions can be downloaded here. More »

14 April
Volume 27 Issue 3 of the Australasian Journal of Regional Studies is now available to members on the... More »